Let us continue this little journey past the hoovers and into the felines...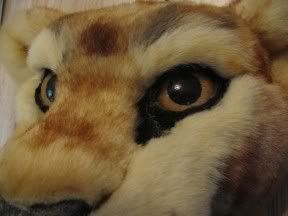 I started this lion same time as the deer. I experimented with giving him whiskers but it just didn't look right. And then I was trying to soften the plastic whiskers with heat to make them lay more uniformly.. using my gas stove...

After that, I waa a little too eager with the black paint (even though I know not to even use black) and muddied up his face so he looked like 'Zira' off the 'Lion King'. Not a horrible look, but that much paint makes things really stiff and coarse. So I ended up refurring much of his face (and removing the whisker stubs at the same time).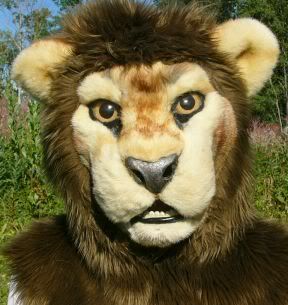 A mask with static jaw and hood. Hood is removable. Consists of mask, hood, handpaws, and tail.

The paws I just did recently. My own pattern, sort of a cross between the 'Lion King' look and my pets' paws. It took me about 6 months to get the pattern figured out.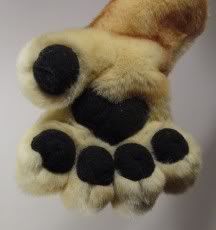 The tail has a wire and foam armature and is posable. It has two elastic loops for a belt and a metal clip to attach it to a pair of pants. Basically, the metal clip holds it tightly in place and the loops prevent it from falling off or wandering.






And my website is up at http://www.beetlecatoriginals.com . I cut all of the product links but I have a couple tutorials and a quick run through of head making amongst other stuff. Two pics have broken links and the feedback form does not work.

As a side note, anyone who knows php, can I pick your brain? It worked in the old incarnation of my website, but that was wiped and I have since lost all knowledge of how to make this feedback form work. Do I need a sendmail script as well as a feedback script?

EDIT: I figured it out. You may feedback away with abandon :D