I made a link. here he is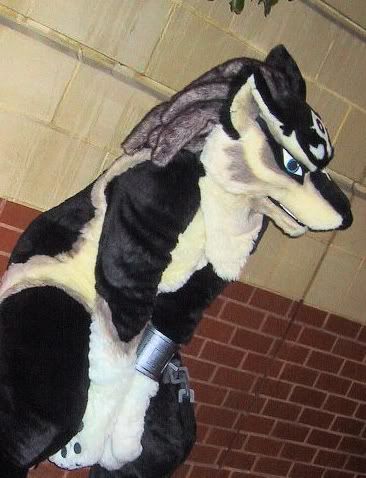 my second completed fursuit since the new year (blame the number of anime cons), I decided to make Link in his wolf form, from Legend of Zelda: Twilight prncess. for those who've not played, this is the design I was working from: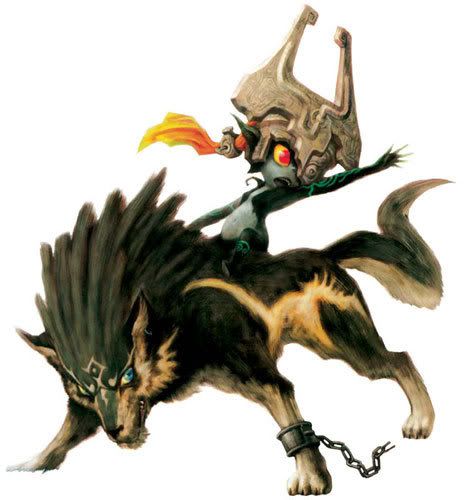 Lack of time meant I had to re use some pieces from my Amaterasu costume I posted a few weeks back: the leg padding, feet and hands are purloined, but I think they fit with the costume well enough for it not to matter. This costume (bar those parts) was completed in about 3 weeks, working evenings and weekends; having the pattern for the body worked out (again from Ammy) also really helped.
so, onto the pics: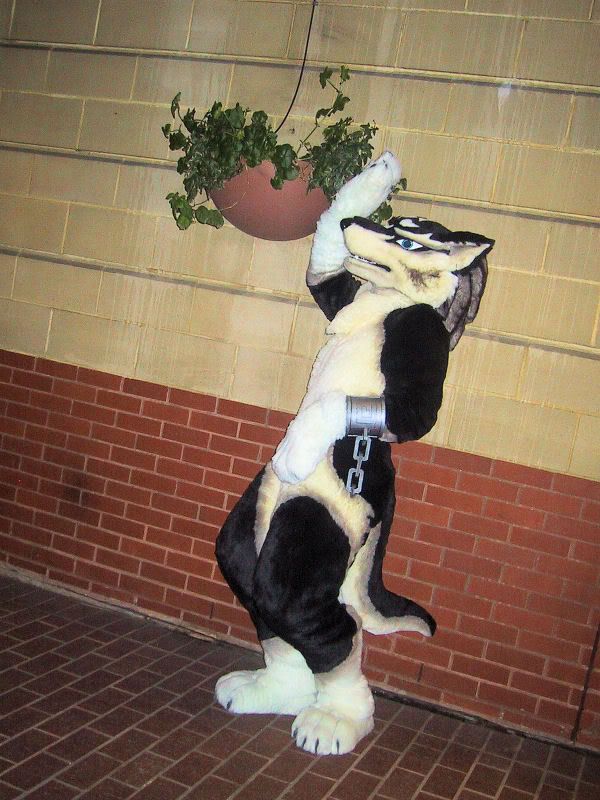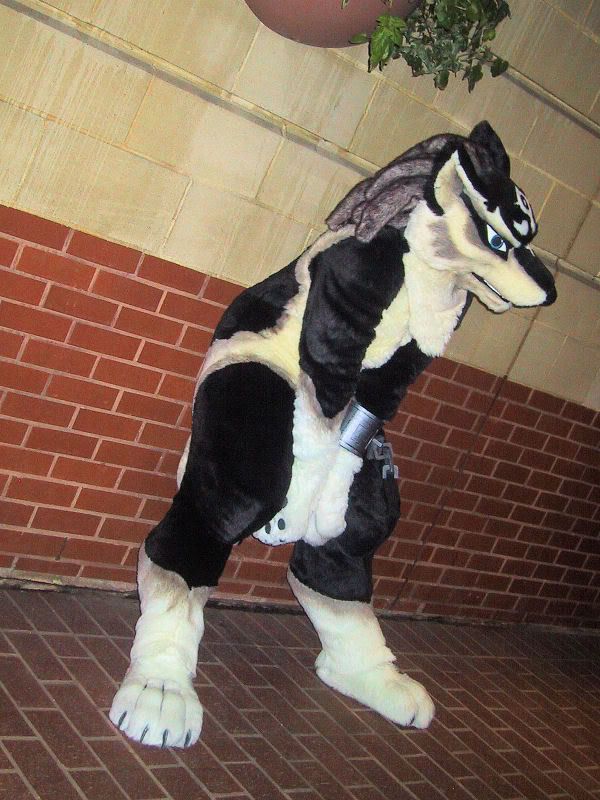 I'm really pleased with the "dreadlocks" on this head; I found some dark grey 2 tone fur I'd had lying around for ages, it breaks the monotony of thge black and beige white well and adds a lot of character to the thing.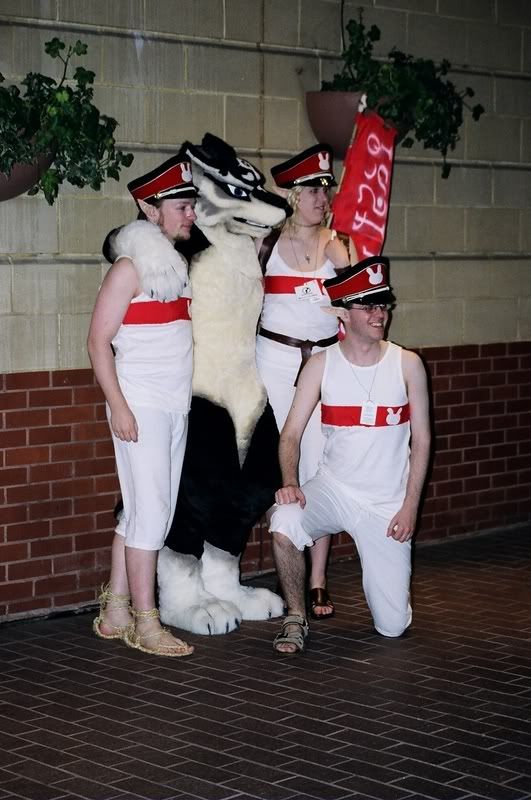 the hyrulian postal service showed up for a few pics, and delivered some letters of GREAT IMPORTANCE.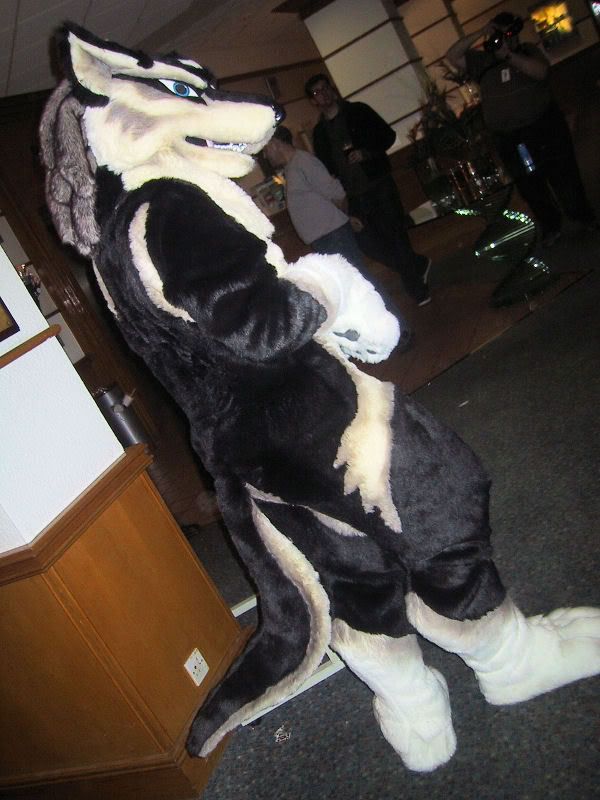 I'm really pleased with how the markings turned out on this one; it's the most complex patterning I've done so far, all hand sewn, and I think it works pretty well. as ever, all the shading is super low tech paint + toothbrush work.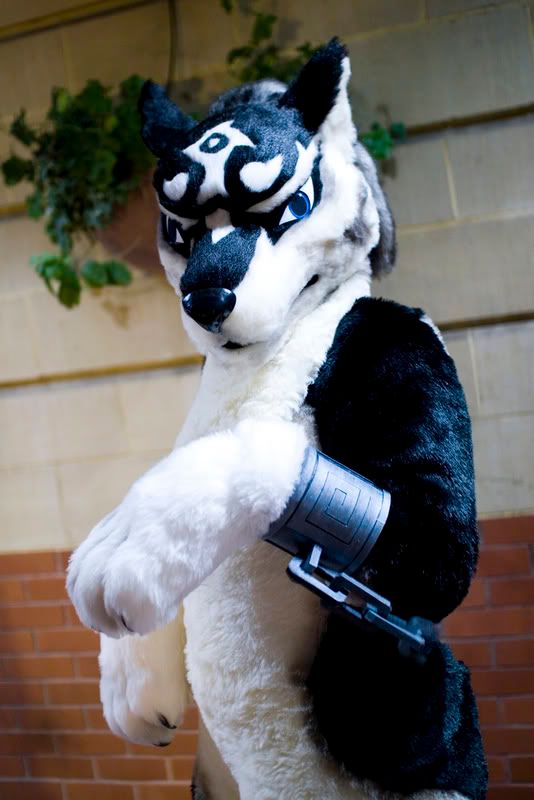 Three things are notable about this photo. First, they show my biggest issue with this suit; the eyes are too widely spaced and he looks a bit odd from the front (that's why all the other pictures are in porofile). Second, you can see the foam manacle (incluing entirely foam chain) which I was really happy with.
But most importantly, look at the difference in lighting and exposure between this and the other pictures. This was taken by a photographer friend with a good camera, and post processed in a Virtual Darkroom. The actual lighting was identical to the other photos from the same location, but he's managed to get a LOT more out of it by adjusting levels and using good equipment with the right settings. It does demonstrate just how much difference good photography can make. I'm hoping to arrange some proper on location shoots with this guy, see what we can get out of that.
Lastly, and only tangentially connected, I'm after some very specific fur and I'd like to know where to get it.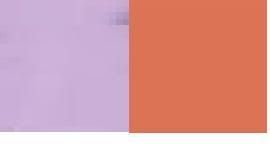 lilac and pale red/dark salmon fur, short-medium pile, preferably something that lies smooth rather than super fluffy. I've had a look round the sites in the community info, but it's always hard to tell what the quality is like from website pics, plus they are quite unusual colours. So if anyone has ordered fur of these colours (or very similar, there's a little room for movement) I'd love to know where you got it and what the quality was like; Ideally, pictures of the suit/plush you used it on to see what it looks like on a finished product. UK preferred, other locations acceptable.