Hey all! let me introduce my newest fursuit project: Didger & Eedo!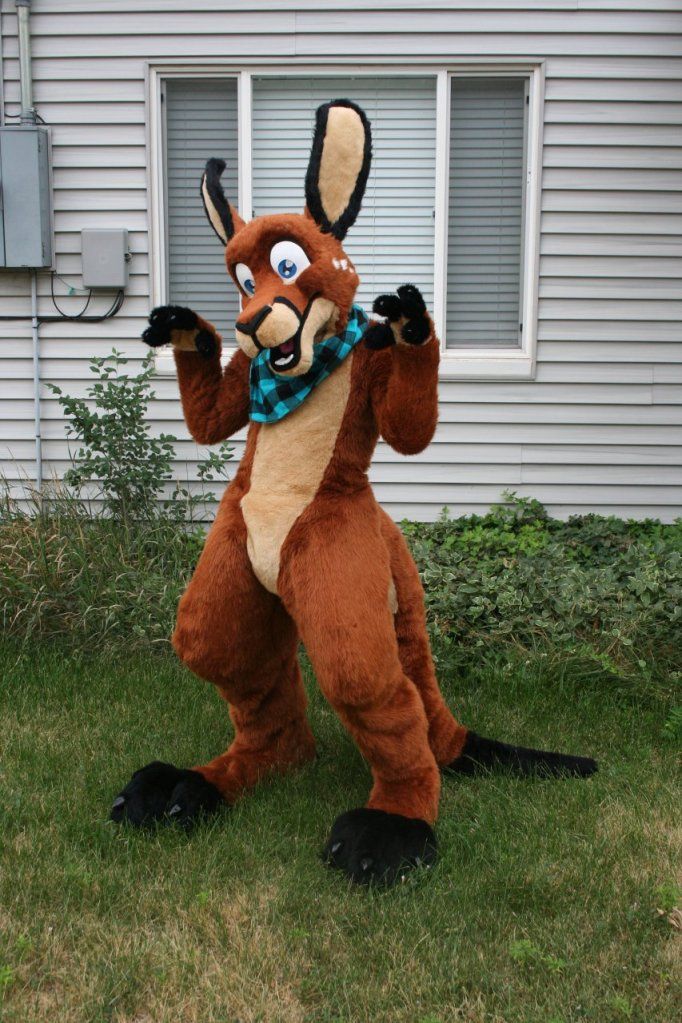 FA link: http://www.furaffinity.net/view/8641254/



FA link: http://www.furaffinity.net/view/8641276/

My husband and I really wanted to make twin suits for ourselves! we debated a long time on what species to do. I wanted something unique but cool, so we decided on kangaroos! I spent extra time on designing the legs and feet because that is the most iconic part of a 'roo, and i wanted to make sure these suits were an instant read. unmistakably kangaroo from the moment someone sees them. I know i'm embarrassed having to answer the question 'What are you? while in suit.

also, an important thing i needed to think about while making these suits was scale. my husband and I are noticeable different heights, and if i made the head/feet/tails all the same size, it would have looked disproportional on one of us. more on that later

so on to the shape of the leg! as you know, kangaroos mostly stand with their heels on the ground, so they're plantigrade. they do stand on their toes to look bigger to predators or fight other males, and they do bounce on their toes, but the iconic kangaroo stands on its whole foot. like this: http://animalstime.com/wp-content/uploads/2012/05/kangaroo1.jpg so that's the look i went for. here's the design i came up with:




So i needed to extend the foot not only in front of my foot, but behind as well. here is how i started:




the formula that i came up with to get the feet to the the right scale was ~1 foot length in front of your own foot, and ~half a foot length behind. I use those interlocking foam mats as the base of my feet, but non of those are long enough to cut the length of foot i needed. and the solution to that, turned out to be to our advantage! we cut out the foot in 3 sections, making the splits right before and right after the real foot. then with some scrap sheet fabric to make a hinge. just held the sections together and glued it to the top. now in the future, i would use a a heavier material. So far there haven't been any problems with our feet, in fact they seem rather sturdy. i'm sure the foam that i glued on top lends additional support. But yes, I would use something heavier in the future just to be safe.

anyways, here's what it looked like after the body and feet padding was done:




(that tail is actually a blanket all rolled up and held together with extension cords. it was a quick prototype to get an idea of how big we wanted the tail to be) the feet were furred all the way up to the calf and then the body suit comes down to cover the top of that. and here you can see the bend in the foot:




Most people ask us if it is hard to walk in these, and it is actually surprisingly easy. I was prepared to have it be really hard to walk in, but all we end up doing is stepping a little higher and holding my toe up a bit. and the hinges in the foot give us a nice slapping sound as we walk ;) and also we had to learn to not walk as close to people, as to not kick them with our toes.

hope you enjoy! and i hope to see more big feet Roo suits in the future!







EDIT: someone asked about the tail and I remembered that i wanted highlight how i did them, but forgot. better late than never!. I knew from the start that i wanted the tail attached to the body, but was concerned with the weight dragging down on the suit, putting a lot of stress on the seams that attach it and the seams on the shoulders. so my solution was to make "Pillow form" tail. I just sewed a bed sheet into the tail form i wanted, ans stuffed it with polyfill basically using this pattern:



(the colored lines are just to clarify how they go together)

then i sewed some belt loops on them, that way, the weight of the tail doesn't pull on you, and it has a nice bounce! you can see the tail form in this photo:




then i sewed the fur tail, slightly bigger than this tail, and it fits snugly inside. but it really needs to be quite snug, so that it doesn't shift around and look weird. to get these in, i have to turn the fur tail inside out and force the tip of the pillow tail in until there is enough grip grab the fur and the pillow together and pull them through. hope that helps!